About Gallery Thirty Three
Gallery Thirty Three is Wanaka's Contemporary Art Gallery exhibiting artwork by New Zealand and Australian contemporary artists. Established in 2002, the gallery exhibits artwork in a range of media including paintings, sculpture art, glass art, ceramics, and jewellery. Our team are passionate about fostering an appreciation for contemporary art. We aim to provide locals and visitors with access to inspiring artwork created by well-known, mid-career and emerging artists. Gallery Thirty Three holds regularly changing exhibitions and is a must-visit to enjoy high-quality artwork and immerse yourself in something new.
Gallery hours:
Monday - Friday: 10.00am - 5.30pm
Saturday & Sunday: 10.00am - 4.00pm
Our exhibitions open on the first Friday of each month and run for three weeks.
In addition to our regular exhibition schedule and day-to-day Gallery programme, we offer:
Art consultancy and advice to art groups and individuals
Valuations for insurance claim purposes
Lay-by facility
Sourcing of artworks
Installation and hanging of fine art
Commissions
Professional packing and shipping worldwide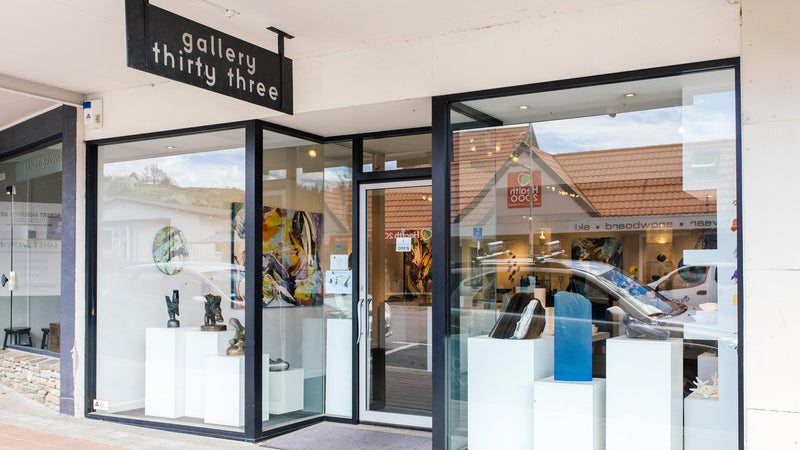 The team
Gallery Directors

Norma Dutton & Peter Gregg

Norma and Peter are the gallery directors of Gallery Thirty Three. They acquired the gallery in March 2005. Norma and Peter come from a business and art collecting background and both have a passion for art. They have successfully owned and operated two well-regarded commercial art galleries. Their other gallery was the Arthouse, founded in Christchurch in 1998. Over the last 24 years, Norma and Peter have gained a wealth of knowledge and experience in New Zealand art and the business of art promotion and sales. The directors have created a relaxed and friendly atmosphere and shaped Gallery Thirty Three into a 'not to be missed' destination in Wanaka for local and overseas visitors alike.

Assistant Manager

Sarah Hall

Sarah joined our gallery in 2023 after gaining experience in the creative industries both in Auckland and overseas. Prior to starting this role, she worked as a graphic designer for North & South magazine. She has a diverse background from working in public and private galleries/museums, such as Auckland Art Gallery, Auckland Museum and White Cube. She holds an BFA Honours from Elam School of Fine Art and a Graduate Diploma in Design from Massey University.